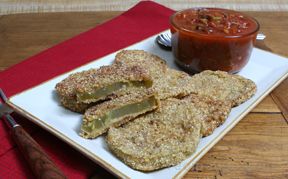 Directions
Heat oil over medium high heat in a large skillet.
Pour buttermilk into a shallow dish.
Mix cornmeal with the rest of the seasoning ingredients in another shallow dish.
Dip each tomato slice into the buttermilk then dredge it in the cornmeal mixture.
Fry each slice in the oil until browned, 3-5 minutes.
Turn and cook the other side until browned.
Remove to a paper towel lined plate or baking sheet.
Keep warm in a 200° oven while cooking the rest of the slices.
Prep Time: 10 minutes
Cook Time: 5 minutes
Container: large skillet, 2 shallow mixing dishes
Servings: 4


Ingredients
-
4 large green tomatoes - sliced 1/4 to 1/2 inch thick
-
oil to fill pan 1/4 inch deep
-
1 1/2 cups cornmeal
-
2 tablespoons salt
-
2 tablespoons black pepper
-
2 tablespoons paprika - hot if desired
-
1 1/2 cups buttermilk