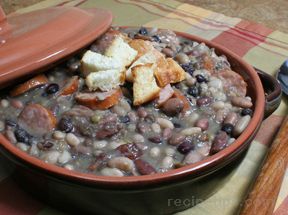 Directions
Rinse beans.
Place in soup pot along with six cups of cold water.
Let beans soak overnight 8-10 hours.
Drain water and rinse beans in colander.
Place beans back into a pot, add 6 cups of hot water and hamhocks.
Simmer for 1 1/2 - 2 hours.
Add kielbasa and heat through.
Serve with croutons if desired.
Prep Time: 10 minutes
Cook Time: 2 hours
Container: soup pot or stock pot
Servings: 6


Ingredients
-
20 ounces dried beans
-
1/2 pound hamhock - smoked
-
1/2 pound kielbasa sausage - sliced into 1 /2 inch slices
-
croutons if desired