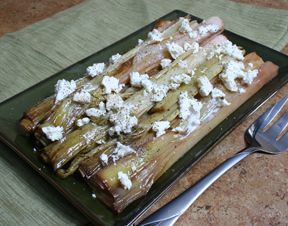 Directions
Preheat oven to 450° F.
Cut green tops and roots off of the leeks.
Cut leeks lengthwise almost to the center.
Rinse under cool water to remove any sand or dirt.
Cut bottoms off of the celery but keep the tender tops attached.
Lay the leeks and celery into a roasting pan in a single layer.
Drizzle with vinegar, oil and season with salt and pepper.
Roast in the oven for 10 minutes, turn leeks over and roast another 10 minutes until the leeks have softened.
When done, some of the outer leaves may need to be removed if they are too tough.
Arrange on serving platter.
Top with goat cheese and feta.
Serve warm.
Prep Time: 10 minutes
Cook Time: 20 minutes
Container: heavy roasting pan
Servings: 4


Ingredients
-
1 pound 4-6 leeks
-
3 tablespoons olive oil
-
3 tablespoons balsamic vinegar
-
salt and pepper to taste
-
2 ounces goat cheese
-
2 ounces feta cheese