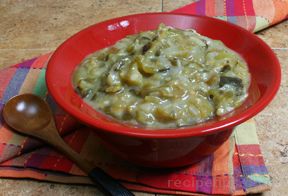 Directions
Melt butter and oil together in a saucepan over medium heat.
Sauté the onion until soft.
Stir in the flour and then the broth.
Whisk together continuously until the mixture is smooth.
Add all of the peppers, garlic, salt and cumin.
Lower the heat and simmer for 10-15 minutes.
Refrigerate any unused portion.
Prep Time: 20 minutes
Cook Time: 15 minutes
Container: medium saucepan
Servings: 10


Ingredients
-
1 tablespoon olive oil
-
1 tablespoon butter or margarine
-
1 medium onion - chopped
-
2 tablespoons flour
-
1 1/2 cups chicken broth or stock
-
10 ounces (2 cans) green chiles - drained
-
2 anaheim peppers - skinned and chopped
-
8 poblano peppers - skinned and chopped
-
2 cloves garlic - minced
-
salt to taste
-
1 dash cumin