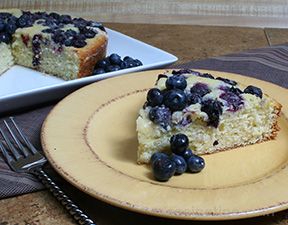 Directions
Preheat oven to 350°F.
Grease and flour round cake pan.
In medium bowl whisk flour, cornmeal, baking powder, soda and salt until blended.
In mixer blend butter, sugar and lemon zest on medium high until well blended and fluffy. Add eggs, one at a time beating on medium speed until blended and add the lemon juice with second egg. Take bowl off mixer, with rubber spatula fold in half of the dry ingredients then the buttermilk, then remaining dry ingredients. Scrape batter into prepared pan, spread evenly.
Bake for 15 minutes.
Meanwhile, combine blueberries, sugar and flour in small bowl. Using a fork, mix ingredients to evenly coat berries.
After baking the batter for 15 minutes, remove from oven and scatter blueberries over the top of cake.
Place cake back in oven and continue baking until toothpick inserted in center comes out clean; approximately 25 minutes.
Let cake cool on wire rack for 15 minutes. Run knife around the edge of the pan. Place plate (larger then the cake pan) on top of the cake, invert cake. Lift cake pan off cake, lay serving platter on the bottom of the cake and invert onto the platter so that the blueberries are on top.
Serve warm or at room temperature.
Prep Time: 15 minutes
Cook Time: 40 minutes
Container: 9
Servings: 10


Ingredients
-
1 1/3 cups all purpouse flour
-
1/4 cup ground yellow cornmeal
-
1 teaspoon baking powder
-
1/4 teaspoon baking soda
-
1/4 teaspoon salt
-
6 tablespoons butter, unsalted
-
1 cup granulated sugar
-
1/2 lemon, zested
-
2 large eggs
-
1 tablespoon fresh lemon juice
-
1/2 cup buttermilk
-
TOPPING:
-
1 cup fresh blueberries, more to garnish with
-
1 tablespoon sugar
-
1 tablespoon flour
-
shortening to grease cake pan