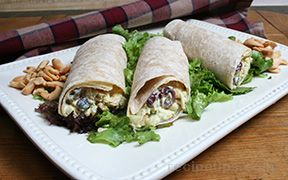 Directions
Place chicken breast on baking sheet, remove skins. Sprinkle with olive oil and seasoning salt.
Preheat grill to medium heat, place seasoned breasts on grill, bone side down.
Grill 20-30 minutes, mainly bone side down, turning once to nicely brown top side. Allow to cool completely, then take meat off bone, shred into small pieces. Place in large bowl.
For dresing: combine mayonnaise, wine, chutney, curry powder and salt in bowl of food precessor; process until smooth.
Pour dressing over chicken, enough to moisten. There may be extra dressing; use for dipping sauce.
Add celery, green onions, craisins, water chetnuts and mix well. Refrigerate for a few hours or overnight to allow flavors to blend.
When ready to make wraps add nuts or cashews. Fill each tortilla center with chicken mixture. Fold one side over the other, roll up and cut in half. Serve with fresh fruit.
Prep Time: 25 minutes
Cook Time: 30 minutes
Container: grill, large mixing bowl, food processor
Servings: 6


Ingredients
-
3 whole chicken breasts, bone in, skin removed
-
3 teaspoons seasoning salt
-
1 1/2 cups mayonnaise
-
1/3 cup white wine
-
1/4 cup chutney
-
2 tablespoons curry powder
-
2 celery, diced
-
1/4 cup green onions, white and green part, chopped
-
1 can (5 oz.) water chestnuts, drained, chopped
-
1/2 cup craisins or dried cherries
-
1 cup peanuts or cashews, chopped
-
6 tortilla
-
olive oil