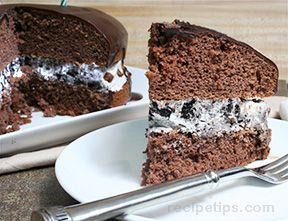 Directions
Preheat oven to 350° F.
Prepare and bake cake according to package directions. Cool in pans for 5 minutes, then invert onto wire racks to cool completely.
Place chocolate squares and butter in small microwaveable bowl. Microwave on high at 30 second intervals until the chocolate and butter are melted. Stir after each 30 second interval. Be sure the chocolate and butter are well mixed; set aside.
Beat cream cheese and sugar in large bowl with electric mixter until well blended.
Stir in whipped topping and crushed cookies. Stir until well blended.
Place 1 cake layer, top side down, on serving platter. Spread with cream cheese mixture evenly over the cake layer.
Place the second cake layer, top side up, on top of the cream cheese layer. Push down slightly to prevent the cake top from sliding.
Take swirl chips and press them slightly into the cream cheese mixture all the way around the cake. Just enough to hold them in place but still be able to see them.
Top with the chocolate glaze mixture, spreading evenly over the top and allowing it to drizzle down the sides.
Store in refrigerator.
Prep Time: 20 minutes
Cook Time: 30 minutes
Container: 2-8
Servings: 16


Ingredients
-
1 (2 layer size) german chocolate cake mix
-
4 squares semi-sweet chocolate
-
1/4 cup unsalted butter
-
1 pkg (8 oz.) cream cheese, softened
-
1/2 cup sugar
-
2 cups cool whip, thawed
-
14 oreo sandwich cookies, crushed into small chunks
-
1/4 cup chocolate/caramel swirl chips