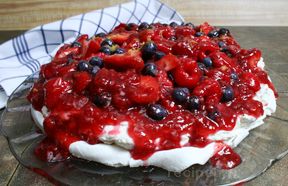 Directions
MERINGUE:
Preheat oven to 180° F.
In a large mixer bowl, whisk the egg whites with salt and sugar.
Whip until shiney and stiff.
Remove bowl, sift in cornstarch.
Add vinegar and vanilla.
Fold all together.
Spread out into a 9 inch circle on a silpat or parchement paper on a baking sheet.
Bake in the oven for 1 1/2 hours.
Then shut the oven off and allow it to sit for one hour - do not open the oven door during this time.
BERRY SAUCE:
Meahwhile, place raspberries, water, sugar and raspberry jam in a medium saucepan.
Bring to a boil, then turn back the heat to a simmer for 5 minutes.
It will cool down but still have some chunks of raspberry in it.
You may place the mixture in the food processor and blend until smooth or leave it as is with a slight chunky texture.
BERRY MIXTURE:
In a medium bowl, toss together the 1/2 cup raspberries, strawberries and blueberries.
Add 1/2 cup of the raspberry sauce and stir to combine.
WHIPPED CREAM:
Whip heavy cream in a mixer bowl along with the sugar and vanilla.
Whip on high for 3-5 minutes or until stiff peaks form.
Spread the whipped cream over the cooled meringue.
Top with the fresh berry mixture.
Pour reserved sauce over all, allowing the juices to run down the sides.
Garnish with lemon zest and serve immediately.
Prep Time: 20 minutes
Cook Time: 2 hours
Container: baking sheet, large mixer with bowl
Servings: 12


Ingredients
-
MERINGUE:
-
4 egg whites at room temperature
-
1 pinch salt
-
1 cup sugar
-
2 teaspoons cornstarch
-
1 teaspoon white wine vinegar
-
1/2 teaspoon vanilla
-
BERRY SAUCE:
-
1/2 pint fresh raspberries
-
1/4 cup sugar
-
1/4 cup water
-
10 ounces raspberry jam or jelly
-
1 lemon - grated zest
-
BERRY MIXTURE:
-
1/2 pint raspberries
-
1 pint strawberries - hulled and halved
-
1 pint blueberries
-
WHIPPED CREAM:
-
1 cup heavy cream
-
1 tablespoon sugar
-
1 teaspoon vanilla