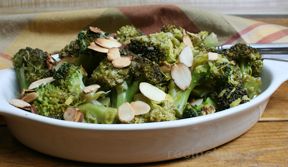 Directions
Cook broccoli in large pot of boiling water for 3-4 minutes, just until crisp tender.
Place in an ice water bath to stop cooking.
Drain.
In a medium bowl, whisk together the oil, vinegar, Dijon, garlic pepper and lemon zest.
Pour over broccoli, pepper to taste and toss to combine.
Squeeze one lemon over all.
Sprinkle with toasted, sliced almonds.
Prep Time: 15 minutes
Cook Time: 5 minutes
Container: large pot, medium mixing bowl
Servings: 6


Ingredients
-
2 pounds fresh broccoli - cut up
-
1/4 cup olive oil
-
1 1/2 tablespoons balsamic vinegar
-
1/2 teaspoon Dijon mustard
-
1 teaspoon garlic - minced
-
ground pepper to taste
-
1/2 lemon - zested
-
1/4 cup toasted, sliced almonds