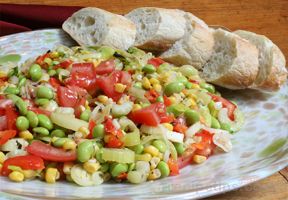 Directions
Heat olive oil and butter over medium heat.
When butter has melted, add edamame and stir to coat.
Add the onion and saute for five minutes.
Add the bell pepper, corn, celery, leek and garlic.
Saute for another 5-10 minutes or until the vegetables are tender crips, not mushy.
Stir in the oregano and cayenne pepper.
Season to taste with salt and pepper.
Remove from heat.
Gently fold in tomatoes right before serving.
Prep Time: 20 minutes
Cook Time: 15 minutes
Container: medium sauté pan, serving bowl
Servings: 6


Ingredients
-
1 tablespoon olive oil
-
1 tablespoon butter or margarine
-
10 ounces frozen edamame - shelled, approximately 1 1/2 cups
-
1/2 sweet onion - chopped
-
1 red bell pepper - chopped
-
15 1/4 ounces (1 can) corn - drained or 1 ear of fresh sweet corn cut off the cob
-
1 stalk celery - diced
-
1 leek - sliced thin
-
1 clove garlic - chopped
-
1 tablespoon fresh oregano - chopped
-
1/4 teaspoon cayenne pepper - more or less to taste
-
1 fresh tomato - diced
-
salt and pepper to taste