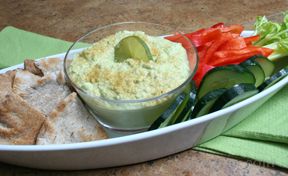 Directions
Cut vegetables into 1/2 inch sticks approximately 2 1/2 inches long.
Place them in a plastic bag in the refrigerator while preparing the dip.
Cook edamame in 2 cups of boiling water with 1 teaspoon salt in a heavy saucepan.
Drain in a colander and rinse under cold water until cool.
In a small saucepan, heat oil.
Add garlic and cook over low heat, stirring occassionally until the garlic is pale golden, approximately 3-5 minutes. Watch carefully so you don't burn it.
Pureé the cooled edamame with the garlic oil in a food processor or blender.
With the motor running, add 1/2 cup of chicken stock.
Add the lime juice, sugar, pepper, sour cream, ranch dressing and salt.
Pulse to the desired consistency.
You may need to thin it with a little more chicken stock.
Transfer dip to a serving bowl and serve with vegetables and baked pita chips.
Container: medium saucepan, small saucepan, blender, food processor, serving bowl
Servings: 12


Ingredients
-
2 cups small carrots
-
3 stalks celery
-
1 cucumber
-
1 red pepper
-
baked pita chips - for dipping
-
10 ounces frozen edamame - shelled
-
1 tablespoon garlic -chopped
-
3 tablespoons olive oil
-
1/2 lime - juiced
-
1 teaspoon sugar
-
salt and pepper to taste
-
1/4 cup sour cream
-
1/4 cup ranch dressing
-
1/2 cup chicken stock