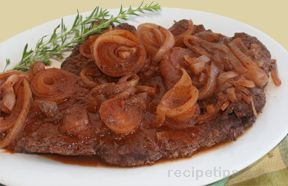 Directions
Trim any excess fat from the meat.
Mix salt, pepper, flour, and paprika if using.Pat or rub this mixture into the surface of the meat.
Heat oil in a skillet large enough to hold meat in a single layer and brown steak 3 to 5 minutes per side.
Add the onions, tucking them under and around the meat. Cook another 5 minutes, until onions begin to soften.
Mix the tomato paste with a little of the wine, add the rest of the wine and the herbs and pour over the meat and onions.
Cover pan (use foil if skillet doesn't have a lid), adjust heat to maintain a simmer, and cook until meat is tender. Allow an hour or more - the actual time will depend on the cut and thickness of the meat.
Taste sauce for seasoning; correct if necessary. Serve hot, with sauce spooned over meat.
Prep Time: 20 minutes
Cook Time: 1 hour
Container: large skillet with lid
Servings: 4


Ingredients
-
1 pound round steak, whole or in serving pieces
-
2 tablespoons oil
-
1 teaspoon salt
-
1/2 teaspoon pepper
-
1 tablespoon flour
-
1 teaspoon paprika (optional)
-
2 large onions, thinly sliced
-
1 tablespoon tomato paste
-
1 cup dry wine (substitute water)
-
1 tablespoon chopped fresh herb (oregano, savory, thyme, etc ) or 1 teaspoon dried