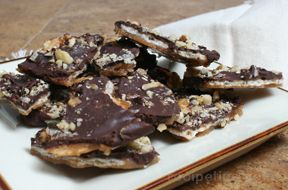 Directions
Preheat oven to 400°F.
Line the baking sheet with aluminum foil, place crackers on foil to cover entire bottom.
In saucepan, melt butter and light brown sugar until it boils, stirring contantly.
Let boil for 3 minutes; continue to stir so not to burn. Remove from heat and let stand one minute.
Pour the butter mixture evenly over the crackers, smooth out to edges with a spatula.
Place in oven for seven minutes, watch closely so the toffee does not burn.
Remove from oven and immediately sprinkle the chocolate chips over the toffee, spread with a spatula to even out to the edges. Sprinkle chopped nuts over the top of the chocolate and press down into the mixture.
Place in refrigerator until it hardens, or place in freezer to hasten the hardening.
Once the toffee hardens, remove tin foil from back and cut or break into bite size pieces. Store in the refrigerator or freezer in a covered container.
Prep Time: 10 minutes
Cook Time: 10 minutes
Container: baking sheet with sides, heavy sauce pan and aluminun foil
Servings: 18
Serving Size: 2 pieces


Ingredients
-
4 1/4 ounces (1 box) nut and rice crackers
-
1 cup butter (do not substitute)
-
1 cup light brown sugar
-
1 cup chopped pecans or walnuts
-
1 bag (12 oz.) milk or dark chocolate chips