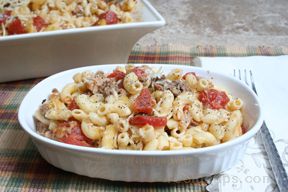 Directions
In a medium skillet, brown hamburger with the onions until the hamburger is no longer pink and the onions are tender. Drain off any excess fat and set aside.
In a saucepan, over medium low heat, place the cheese and allow to slowly melt. Stir ocassionally.
It should make approximately 1 1/2 to 2 cups of cheese sauce.
Add two tablespoons of milk for creaminess.
While the cheese is melting, cook the pasta according to the package directions.
Drain and place in a large mixing bowl.
Pour melted cheese over the pasta, mix to combine.
Add diced tomatoes with juice, the browned hamburger with onion, and salt and pepper.
Mix to combine. Reheat if necessary before serving. To reheat place in a microwave for 2 or 3 minutes, or place back in the skillet and reheat on the stovetop over medium heat. Cook just long enough to reheat.
Sprinkle with parmesan cheese.
Serve warm.
Store leftovers in refrigerator, covered.
Prep Time: 20 minutes
Cook Time: 25 minutes
Container: 9x13 casserole dish, large mixing bowl, sauce pan, pasta pot, skillet
Servings: 10


Ingredients
-
16 ounces elbow macaroni (1 box) or favorite pasta
-
1/2 pound ground beef
-
1/4 cup onion - diced
-
14 ounces Italian seasoned tomatoes (1 can)
-
2 cups any kind of cheese - provolone and american work well
-
2 tablespoons milk
-
salt and pepper - to taste
-
1/4 cup parmesan cheese - grated