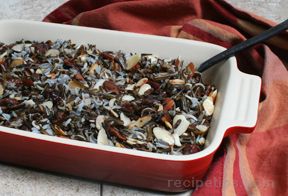 Directions
Preheat oven to 300° F.
Cook wild rice according to package directions, or until ends break open, approximately 55-60 minutes; drain.
Add cherries and almonds (or pine nuts) to wild rice mixture.
Add water and salt. Cover pan and cook mixture over low heat for 15 minutes.
Stir before serving.
Prep Time: 5 minutes
Cook Time: 10 minutes
Servings: 4
Serving Size: cup


Ingredients
-
1 cup long-grain wild rice
-
1/2 cup dried cherries - chopped coarsely
-
1/2 cup sliced almonds or pine nuts
-
1/4 teaspoon salt
-
1/4 cup water
-
salt and pepper to taste