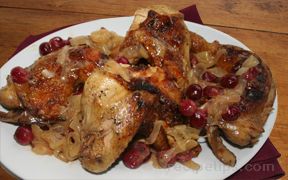 Directions
Mix salt, pepper and paprika. Sprinkle over chicken pieces.
Heat oil in a skillet large enough to hold pieces in a single layer.When oil is hot, brown chicken 3 - 4 minutes for each side. Add onions and wine, stirring around and under chicken. Add herbs. Cover and cook at a simmer for 20 minutes.
Stir in gooseberries and cook 10 minutes more, or until chicken is done.
Serve hot, with sauce spooned over.
TIP: To have small amounts of wine available for cooking, decent quality boxed wine. It keeps well without refrigeration.
Prep Time: 15 minutes
Cook Time: 30 minutes
Container: large heavy skillet with lid
Servings: 4


Ingredients
-
1 3 to 3 1/2 lb frying chicken, in quarters or serving pieces
-
1 teaspoon salt
-
1 teaspoon paprika
-
1/2 teaspoon freshly ground pepper
-
2 tablespoons olive or canola oil
-
2 onions, thinly sliced
-
1/2 cup dry wine ( see TIP )
-
1 teaspoon crumbled dry herb, such as marjoram, thyme, oregano, or use several sprigs of fresh
-
1 cup gooseberries, stems and tails removed