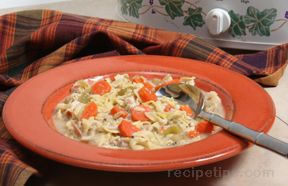 Directions
Clean the celery and peel the carrots; then cut them into slices, keeping them consistent in size.
Place the carrots and celery in the bottom of a 5-quart slow cooker. Cut the onion into slices and lay the slices on top of the carrots and celery.
If a whole chicken was purchased, cut it up into pieces. Clean the chicken and remove the skin and excess fat.
Place the pieces of chicken on top of the vegetables. Sprinkle the salt, pepper, and basil over all of the chicken.
Pour the water over all the ingredients in the slow cooker, cover, and turn the slow cooker on high. Cook for an hour and then turn the cooker down to low and cook for an additional 6 to 8 hours; or, cook on low for 8 to 10 hours.
Check for doneness after 6 to 8 hours. The vegetables should be tender when poked with a fork. The internal temperature of the chicken should be 180°F for the dark meat and 175°F for the white meat; or, if pierced with a fork, the juices should run clear.
If the chicken is done, carefully remove it from the slow cooker so that the meat does not fall off the bones.
Add the uncooked noodles to the vegetables and broth in the slow cooker. Cover and cook an additional 15 minutes on high. Do not overcook the noodles or they will become mushy. They can also be boiled on the stovetop and added just before serving.
While the noodles are cooking, remove the meat from the bones and cut into bite size pieces.
When the noodles are done, add the chicken pieces back in the slow cooker. This is a fairly dense soup, so if more liquid is preferred, just add some hot broth to the slow cooker.
Cover and cook until the meat is thoroughly heated and then serve.
Prep Time: 1 hour
Cook Time: 6 or more hours
Container: 5-quart slow cooker
Servings: 6


Ingredients
-
2 stalks of celery
-
3 large carrots
-
1 medium onion
-
2 teaspoons salt
-
1/2 teaspoon pepper
-
3 pounds whole or cut up broiler/fryer chicken
-
1 teaspoon dried basil
-
3 cups water
-
16 ounces noodles, uncooked