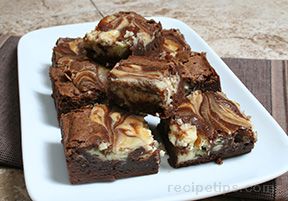 Directions
BROWNIE BATTER:
Preheat oven to 350°F. Grease 8" square pan.
Heat butter and chocolate in heavy saucepan over medium/low heat just until melted, whisking occasionally.
Remove from heat and whisk in sugar, eggs, vanilla and pinch of salt until well combined.
Whisk in flour until combined and spread in greased pan.
CHEESECAKE BATTER:
Cream together cheesecake ingredients in medium bowl until smooth. Drop spoonfuls on top of brownie batter. Spread around slightly over top with knife or spatula. Then cut through batter with knife to create swirl effects.
Bake until edges are slightly puffed and center is set; about 35-40 minutes. (DON'T OVERCOOK OR IT WILL BECOME DRY)
Prep Time: 15 minutes
Cook Time: 35 minutes
Container: 8
Servings: 16


Ingredients
-
BROWNIE BATTER:
-
1 stick unsalted butter
-
2 ounces unsweetened chocolate
-
1 cup sugar
-
2 large eggs
-
1 teaspoon vanilla
-
2/3 cup flour
-
CHEESECAKE BATTER:
-
8 ounces cream cheese
-
1/3 cup sugar
-
1 large egg
-
1/2 teaspoon vanilla