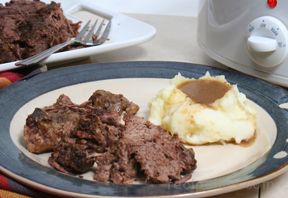 Directions
Suggested Beef Roast Types: Arm, Shoulder, Chuck, Bottom Round, or Rump.
Cut the roast into 3 or 4 smaller size chunks and dredge in 1/4 cup of flour.
Add 1 to 2 tablespoons of oil heated in a skillet on the stovetop and add the floured pieces of roast. Brown all sides of the meat on the stovetop.
After browning the meat, place it in a 4 or 5 quart slow cooker. If the roast is not very thick, place the meat on a rack to lift it up so at least the top part is out of the liquid. Pour grease from the skillet and scrape up any bits off the bottom and add them to the slow cooker.
Combine the remaining flour, gravy mix, soup mix, and cold water. Stir until well blended.
Pour the gravy mixture over the roast. Be sure that the meat is not completely covered with liquid so that it can be exposed to the steam during the cooking process.
Cover, turn on high, and cook for 1 hour; then turn down to low and cook for 6 to 8 hours. If it will not be possible to turn it down after an hour, begin the cooking process on low and cook for 8 to 10 hours.
The meat should be tender when done and should have an internal temperature of at least 145°F.
Remove the meat from the slow cooker and check thickness of the liquid to use as gravy. If it is too thick, add a little water, turn slow cooker on high, and cook until well heated.
If the liquid is too thin, make a thickener of 1 tbsp. of flour and 1/2 c. cold water. Mix well and then add a little at a time to the gravy while cooking on high in the slow cooker. Add thickener until the gravy is the desired consistency. The gravy can also be poured into a saucepan and thickened on the stovetop.
Slice the meat or pull it apart into small pieces. Serve with the gravy and mashed or un-mashed potatoes.
Prep Time: 45 minutes
Cook Time: 6 or more hours
Container: 4 or 5 quart slow cooker
Servings: 8


Ingredients
-
1 beef roast (3 1/2 to 4 1/2 lbs.)
-
1/2 cup flour, divided
-
1 packet brown gravy mix
-
1 packet dry onion soup mix
-
2 cups cold water