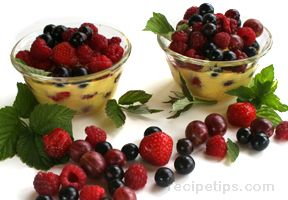 Directions
Clean berries as needed - rinse, remove stems, etc.
Whisk together egg yolks, sugar and salt. Heat the cream in a small pan then gradually whisk the hot cream into the yolks.
Return mixture to the pan and cook over medium heat, stirring constantly until thick. Don't let it boil.
Use the custard warm or chilled, divided into individual serving dishes. Serve it over the berries, under the berries or stirred into the berries.
Prep Time: 10 minutes
Cook Time: 5 minutes
Container: saucepan
Servings: 2


Ingredients
-
1 pint mixed ripe berries (raspberries, blueberries, strawberries, gooseberries etc)
-
2 egg yolks
-
1/4 cup sugar
-
pinch salt
-
1/2 cup cream or half and half