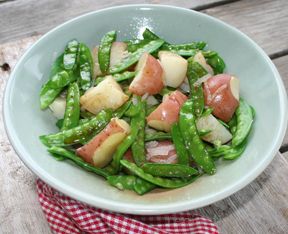 Directions
Scrub or peel potatoes and cut into bite-size pieces (if quite small, leave whole). In a saucepan, cover potatoes with water and a teaspoon of salt and bring to a boil.
While potatoes cook, whisk vinegar and oil or butter together. Add a pinch of salt and a few grinds of fresh pepper. Chop onions and remove any strings or stems from peas.
When potatoes are nearly tender (there is still a slight resistance when pierced with a knife) add onions and peas and cook for an additional 3 - 4 minutes, or until peas are cooked but still a bit crunchy.
Drain immediately and toss with vinegar mixture. Serve warm.
Prep Time: 10 minutes
Cook Time: 15 minutes
Container: saucepan
Servings: 4


Ingredients
-
1 pound new potatoes
-
1 pound snow peas or sugar snap peas
-
1 small onion, thinly sliced then chopped
-
2 tablespoons vinegar, preferably balsamic or cider
-
1 tablespoon olive oil or melted butter
-
salt and pepper