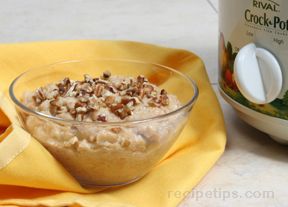 Directions
Do not preheat the slow cooker. Butter or grease the inside of the crock of a 2 or 3 quart slow cooker before adding ingredients.
Add all the ingredients, except the nuts, to the crock and stir to mix evenly.
Place the crock in the heating unit and place the cover on the crock.
Turn the heat on low and allow the oatmeal to cook overnight. The oatmeal will be ready in approximately 5 to 6 hours but can cook up to 8 or 9 hours.
Stir the oatmeal before serving. Spoon into bowls and sprinkle with chopped nuts.
Prep Time: 30 minutes
Cook Time: 6 or more hours
Container: 2 or 3 quart slow cooker
Servings: 6
Serving Size: cup


Ingredients
-
2 2/3 cups milk, can use low fat
-
1 1/3 cups quick oats
-
1/3 cup brown sugar
-
3/4 teaspoon cinnamon
-
1/4 teaspoon salt
-
1 cup finely chopped apples
-
1 1/2 tablespoons butter, melted
-
1/2 cup pecans, walnuts, or almonds