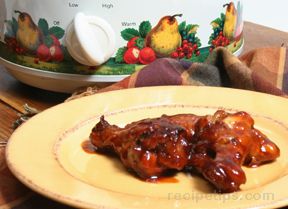 Directions
Place the drummies on a broiler pan, allowing space between each.
Preheat the broiler. Place the broiler pan under the broiler so that the drummies are approximately 6 inches from the heat. Broil for 9 or 10 minutes, until drummies are nicely browned. Turn several times to brown the drummies evenly.
After broiling, place the drummies in a 3 quart slow cooker.
Mix the barbecue sauce, chili sauce, honey, garlic, and pepper in a bowl and then pour over the drummies in the slow cooker.
Place the cover on the slow cooker, turn it on low and cook for 4 to 5 hours. Or, turn on high for 1 hour and then turn it down and cook for 2 to 3 hours on low.
Check for doneness and then leave the drummies in the slow cooker to keep them warm while serving.
Prep Time: 25 minutes
Cook Time: 4 hours
Container: 3 quart slow cooker
Servings: 8
Serving Size: 3 pieces


Ingredients
-
3 pounds chicken drummies
-
1 1/4 cups barbecue sauce
-
2 tablespoons chili sauce
-
1/4 cup honey
-
2 teaspoons minced garlic
-
1/8 teaspoon pepper