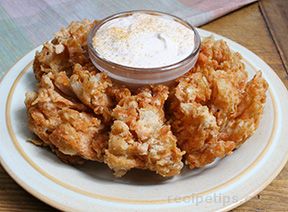 Directions
SAUCE:
Combine all ingredients; mix well. Cover and place in refrigerator until ready to serve.
ONION BATTER:
In a medium bowl, beat egg and add milk; mix well.
In a separate medium bowl, combine the dry ingredients and mix well.
TO SLICE ONION:
Cut approximately 1" off the top and bottom of the onion, remove skin.
With a knife, cut 1" diameter out of the center of the onion (if you have an apple corer, this works great for cutting out the center).
Using a large, sharp knife, cut the onion from top down to 3/4" from the bottom of the onion into quarters. Cut each section after that into halves. Keep cutting each section in halves until you have 16 sections. The smaller the halves get the harder it will be to cut another section, be careful. (You can also purchase a blooming onion slicer to make this process easier.)
FRYING THE ONION:
Spread the petals of the onion apart. If you are having difficulty keeping the petals open, dip in boiling water for 1 minute and then immediately into cold water.
Dip the onion into the egg/milk mixture, then coat liberally with the dry mixter. Be sure to spread the petals and sprinkle in between to coat evenly. Once onion is completely covered in the dry mixture, repeat. Dipping both in the wet mixture and then the dry mixutre twice. Make sure to 'double dip' the onion, when you fry in the oil some of the mixture will wash off.
Heat oil to 350°F. Be sure you have enough oil in the fryer to completely cover the onion, if you need to add more, do so carefully.
Fry the onion right side up for 10 minutes or until onion is golden brown.
Remove from oil and let drain on paper towels.
Place dipping sauce in small dish, spread the petals apart and place dish in the center of the onion.
Serve while onion is still warm.
Prep Time: 15 minutes
Cook Time: 10 minutes
Container: medium bowl
Servings: 4


Ingredients
-
DIPPING SAUCE:
-
1/2 cup mayonnaise
-
3 teaspoons ketchup
-
3 tablespoons cream-style horseradish
-
1/3 teaspoon paprika
-
1/4 teaspoon salt
-
1 pinch ground pepper
-
1/4 teaspoon cayenne pepper
-
ONION:
-
1 egg
-
1 cup milk
-
1 cup all purpose flour
-
1 1/2 teaspoons salt
-
2 teaspoons cayenne pepper
-
1 1/2 teaspoons paprika
-
1/2 ground black pepper
-
1/4 dried oregano
-
1/8 dried thyme
-
1/2 cumin
-
1 large onion, white
-
1 vegetable oil for frying