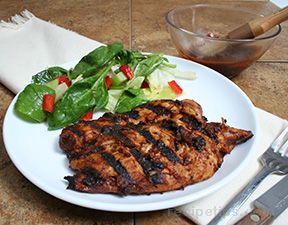 Directions
Mix the barbecue sauce and taco seasoning in the small bowl. Stir until well blended.
Combine chicken breasts and barbecue mixture in large plastic bag; seal. Gently turn bag to coat chicken breasts with marinade.
Place on a plate and put in the refrigerator for an hour.
Remove from refrigerator and place on (pre-heated) grill on medium. Grill each side for about 10 minutes or until chicken is done or no longer pink in the center.
Remove from heat and serve with your favorite side.
Container: large resealable plastic bag, small mixing bowl
Servings: 4


Ingredients
-
1 cup barbecue sauce
-
1 package of your favorite taco seasoning
-
1 package boneless, skinless chicken breasts (4-5 breast)