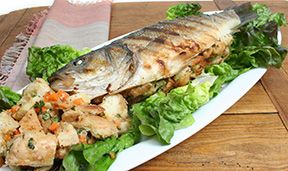 Directions
Heat grill to medium heat.
In small skillet, melt butter or margarine, add cucumber, carrots, onion, and lemon pepper until tender; about 5 minutes. Pour in chicken stock, add parsley. Remove from heat.
In medium bowl, place bread cubes, stir in cooked vegetables. Stir to combine.
Fill cavity of fish. Wrap extra stuffing in foil and place on top shelf of the grill or to side just to heat through. Brush outside of fish with melted butter or margarine. Place directly on grill rack. Cook for about 8 minutes on one side, gently turn and grill another 5-8 minutes. Fish should flake easily when done.
COOKING ALTERNATIVE: Can place in greased 13" x 9" baking pan and bake for 350° F for 20 minutes.
Prep Time: 15 minutes
Cook Time: 40 minutes
Container: small skillet, baking sheet or 13
Servings: 4


Ingredients
-
1/2 cup cucumber, chopped, seeded
-
1/2 cup carrot, finely chopped
-
1/2 onion, finely chopped
-
1 teaspoon lemon pepper
-
1/4 cup butter or margarine
-
1/2 cup chicken stock
-
2 tablespoons parsley, fresh, snipped
-
3 cups tasted bread cubes
-
1 large fish, 2-3 lbs. or 4 trout, 1/2 lbs.
-
2 tablespoons melted butter or margarine