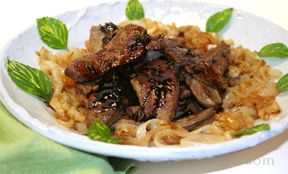 Directions
Slice onions thinly and separate into rings. Heat 1 tablespoon oil and 1 tablespoon butter in 12" skillet. Add onions, stir to coat with oil and salt lightly. Cook over medium-low heat, stirring occasionally, until completely soft and light golden brown - about 20 minutes.
While the onions cook, slice and trim liver, if butcher hasn't done so. (If slicing whole liver, it's easier if the liver is semi-frozen: put in freezer for 15 minutes or so, then slice about 1/3" thick). Lightly salt and pepper the liver.
Chop mint (or rosemary).
Remove carmelized onions from skillet to a warm platter. Add 1 tablespoon butter and 1 tablespoon oil to pan and raise heat to medium high. When hot, add liver and cook for 2 minutes. Stir to turn and cook for another minute or two, until just pink inside. Spoon out of skillet onto the onions. Pour vinegar into hot skillet and add chopped mint. Cook, stirring, until vinegar is thick and syruplike. Spoon over meat and onions and serve immediately.
Prep Time: 10 minutes
Cook Time: 30 minutes
Servings: 4


Ingredients
-
1 pound lamb liver, fresh or frozen
-
1 pound onions
-
2 tablespoons olive or canola oil, divided
-
2 tablespoons butter, divided
-
1/2 cup balsamic vinegar
-
1 tablespoon chopped fresh mint, or 1 teaspoon dried (substitute rosemary if preferred)
-
salt and pepper