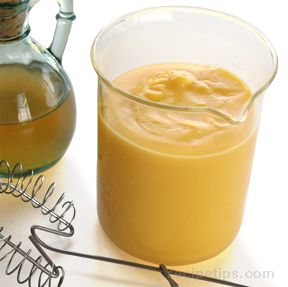 Directions
Put egg yolks, salt, sugar and mustard in a saucepan and mix well. Mix the flour or cornstarch with a tablespoon or two from the cup of milk, and stir in.
Whisk in the remaining milk and the vinegar and cook, stirring constantly over medium-low heat, until the mixture is very thick. However, don't let it boil or it will be lumpy.
Remove from heat, whisk in the butter and taste for seasoning. Add sugar, salt or vinegar as needed for the taste you prefer. Chill before adding to salad.
TIP: The egg whites can be covered and refrigerated for a later use, such as meringues or macaroons.
Prep Time: 5 minutes
Cook Time: 10 minutes
Container: saucepan, 1 - 2 quart size


Ingredients
-
3 egg yolks (see TIP)
-
1 tablespoon sugar
-
1/2 teaspoon salt
-
1 teaspoon dry mustard or 2 teaspoons prepared mustard
-
1 tablespoon cornstarch or flour (use cornstarch for gluten free version)
-
1 cup milk
-
1 tablespoon vinegar
-
3 tablespoons butter, cut into 6 - 8 pieces