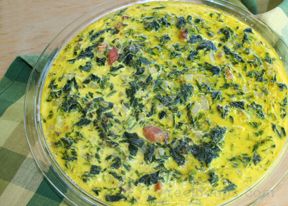 Directions
Preheat oven to 350° F.
Wash greens well, and steam, boil or microwave (in a covered container) until completely wilted - there will be only a small fraction of the original volume. Squeeze dry, chop and set aside.
In a heavy skillet, cook bacon until crisp. Crumble and set aside. Pour off all but 1 tablespoon of fat, add the onions and cook until soft.
In a small bowl, beat eggs until foamy. Add salt and curry powder (if using) and stir in milk.
Scatter onions and bacon in baking dish. Add chopped greens then pour egg mixture over. Place in heated oven, preferably on a rimmed baking sheet to catch any spills, and bake until edges are firm and center is almost firm, 30 -40 minutes.
Remove from oven and let stand at least 5 minutes before slicing. Serve warm, room temperature or cold.
Prep Time: 20 minutes
Cook Time: 40 minutes
Container: 9
Servings: 4


Ingredients
-
2 quarts edible weeds: dandelion (leaves only), lambs' quarters, nettles etc
-
2 slices bacon
-
1 onion, finely chopped
-
4 eggs
-
2 cups milk (whole milk works best)
-
1/2 teaspoon salt
-
1/4 teaspoon curry powder (optional)