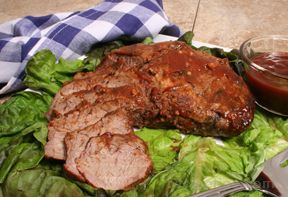 Directions
SAUCE:
In a medium saucepan, combine all of the sauce ingredients with 2 tablespoons of water.
Bring to a simmer over medium heat.
Cook for one minute and then set aside.
Save half of the sauce for dipping and use half for brushing onto the meat.
RUB:
Mix all ingredients together in a small mixing bowl.
ROAST:
Allow the roast to sit at room temperature for 20 minutes before grilling.
Coat the meat with olive oil.
Season with the rub mixture.
Grill over direct medium heat for approximately 5 minutes on each side until well marked with grill marks.
Move the roast to indirect medium heat, cook to desired doneness (20-30 minutes more for medium rare).
Brush the roast with sauce every five minutes or so as it is grilling.
Remove from grill and allow it to rest for 10 minutes.
Cut meat across the grain into thin slices.
Serve with the remaining sauce.
Prep Time: 20 minutes
Cook Time: 40 minutes
Container: grill, medium saucepan, small mixing bowl
Servings: 6


Ingredients
-
SAUCE:
-
1/2 cup ketchup
-
2 tablespoons white balsamic vinegar
-
1 tablespoon Worcestershire sauce
-
1 tablespoon molasses
-
1 teaspoon soy sauce
-
1/2 teaspoon chili powder
-
1 teaspoon garlic - chopped
-
1/4 teaspoon celery salt
-
1/2 teaspoon liquid hickory smoke
-
RUB:
-
1 teaspoon kosher salt
-
1/2 teaspoon celery salt
-
1/2 teaspoon fresh ground black pepper
-
1/2 teaspoon fresh garlic - chopped
-
2 pounds tri-tip beef roast
-
3 tablespoons olive oil