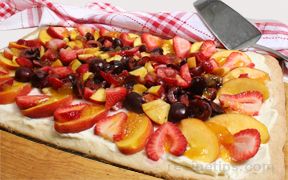 Directions
Pre-heat oven to 350°
Roll sugar cookie dough into an 11x9 inch rectangle or a 12 inch circle.
Place the dough onto a baking sheet.
Bake for 8-10 minutes, just until light golden brown.
In a small mixing bowl, combine the cream cheese, sugar and vanilla extract until smooth.
When the cookie crust is cool, spread the cream cheese mixture over the crust. Leave a 1/4 inch of crust showing around the edge.
Top with assorted fruit.
Place jelly and lemon juice in a microwave safe bowl and heat for 45 seconds in the microwave.
Pour this over the fruit.
Chill until ready to serve.
Prep Time: 20 minutes
Cook Time: 10 minutes
Container: 11x9 baking sheet, small mixing bowl, microwave safe bowl
Servings: 15


Ingredients
-
1 package (16.5 oz.) sugar cookie dough roll
-
8 ounces cream cheese - softened
-
1/4 cup sugar
-
1/2 teaspoon vanilla extract
-
2 fresh peaches - pitted and sliced
-
1 quart fresh strawberries - hulled and sliced
-
2 cups fresh bing cherries - pitted and halved
-
1/2 cup peach jelly
-
1 tablespoon lemon juice