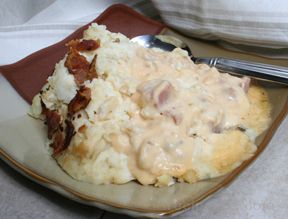 Directions
Combine ham, butter, onions and Worcestershire sauce in a skillet.
Cook over medium heat until the onions are tender.
Place in a large slow cooker.
In a saucepan, heat soup, milk and cheese on medium heat until the cheese has melted.
Pour over the ham mixture in the slow cooker.
Combine the potatoes and sour cream.
Spread the potatoes over the mixture in the slow cooker.
Sprinkle bacon over the top.
Cover, cook on low 3-4 hours or until the cheese mixture bubbles to the top.
Prep Time: 20 minutes
Cook Time: 3 hours
Container: slow cooker, large skillet, saucepan
Servings: 16


Ingredients
-
4 cups cooked ham - cubed
-
4 tablespoons butter or margarine
-
1/2 cup onion - chopped
-
1 tablespoon Worcestershire sauce
-
2 (10 3/4 oz.) cans of cream of mushroom soup
-
1 cup milk
-
2 cups processed cheese - cubed
-
9 medium potatoes - peeled, cooked and mashed
-
1 pint sour cream
-
4 strips bacon - browned and crumbled