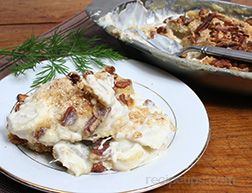 Directions
Preheat oven to 400° F. Grease casserole dish with butter, set aside.
In large saucepan, combine sliced sunchokes, ginger, garlic, salt and pepper and all but 3 tablespoons of the heavy cream.
Simmer over medium heat, stirring occasionally.
Mix the cornstarch with the remaining cream to create a paste. Stir into the sunchokes and simmer for another 5 minutes.
Spoon mixture into prepared casserole dish, top with bread crumbs, then chopped pecans.
Place casserole dish in a larger baking dish, add enough water to come up half way on the sides of the casserole dish.
Bake for 35 minutes or until the top is golden brown.
Prep Time: 15 minutes
Cook Time: 35 minutes
Container: large saucepan, casserole dish, large baking dish
Servings: 6
Serving Size: cup


Ingredients
-
3 cups sunchokes (about 9-12), peeled, sliced
-
1 1/4 cups heavy cream
-
4 tablespoons fresh ginger, grated
-
1 3/4 teaspoons garlic, minced
-
1 teaspoon salt
-
1 3/4 teaspoons cornstarch
-
3/4 cup bread crumbs
-
1/2 cup pecans, chopped
-
pepper to taste