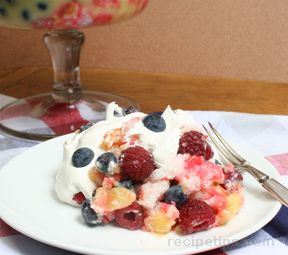 Directions
Bake cake according to package directions.
When cooled, place on a platter and poke holes all over the top with a skewer.
Pour prepared gelatin over the top, approximately 1 cup. The rest can be refrigerated.
Cut or tear the cake into cubes, set aside.
Prepare instant pudding according to package directions.
Cool in the refrigerator.
In a trifle bowl or large glass serving bowl, place a layer of the cake in the bottom and slightly up the sides.
Then spoon a layer of pudding over the cake, then a layer of raspberries and blueberries.
Repeat the layers three times.
Top all with non dairy whipped topping and garnish with berries and mint if desired.
Prep Time: 15 minutes
Cook Time: 20 minutes
Container: large trifle or glass bowl, two medium bowl, angle food cake pan
Servings: 12


Ingredients
-
1 box angel food cake mix
-
1 package (4.6 oz.) vanilla instant pudding and pie filling
-
5 packages (6 oz.) blueberries
-
5 packages (6 oz.) raspberries
-
8 ounces non dairy whipped topping
-
1 package (2.3 oz) raspberry or strawberry gelatin - prepared with water but not gelled or set
-
mint and berries for garnish - optional