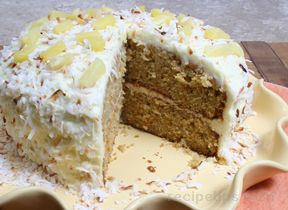 Directions
CURD:
Bring pineapple juice to a boil in a small sauce pan.
In a mixing bowl, whisk together the eggs, yolk and sugar.
Add this mixture slowly into the boiling juice. Whisk continuously until thickened, 2-3 minutes.
Remove from heat, stir in butter and salt.
Pour into a bowl, cover and refrigerate until ready to use.
CAKE:
Heat oven to 350°.
Grease two 9 inch cake pans and dust with flour.
In a medium mixing bowl, whisk the flour, all spice, ginger and salt together, set aside.
In a food processor, process the carrots and then remove to a small bowl.
Next process the coconut with granulated sugar until the coconut is finely chopped.
Add brown sugar, eggs and blend until the mixture is smooth.
With the processor running, slowly pour in the oil and process until combined.
Pour mixture in with flour and add the shredded carrots and 1/2 the pineapple curd. Mix until combined.
Pour this batter into the prepared cake pans.
Bake for 30-35 minutes or until a tootpick inserted into the center of the cake comes out clean.
Remove from oven and allow them to cool in the pans for 10 minutes, then turn out onto wire racks to completely cool.
CREAM CHEESE FROSTING:
Meanwhile, beat butter and sugar together in a mixing bowl until fluffy.
Add cream cheese, one cube at a time, until all are incorporated.
Beat in the remaining pineapple curd.
Refrigerate until ready to use.
When the cakes are cooled, spread 1 cup of frosting onto one cake.
Place the second cake on top and spread the rest of the frosting on top and sides of the cakes.
Sprinkle the entire cake with toasted coconut and press it in gently.
May garnish the top with pineapple tidbits if desired.
Cover with plastic wrap and refrigerate until ready to serve.
Prep Time: 30 minutes
Cook Time: 35 minutes
Container: two 9-inch round cake pans, food processor, medium mixing bowl, sauce pan
Servings: 12


Ingredients
-
PINEAPPLE CURD:
-
1/4 cup pineapple juice
-
2 eggs
-
1 egg yolk
-
1/2 cup sugar
-
2 tablespoons unsalted butter
-
1 pinch salt
-
CAKE:
-
2 1/2 cups flour
-
1 tablespoon baking powder
-
1 tablespoon allspice
-
1 teaspoon ground ginger
-
1/2 teaspoon salt
-
3/4 pound carrots, about 2 1/2 cups of baby carrots or 6 medium regular carrots
-
1 cup sweetened shredded coconut
-
1 1/4 cups granulated sugar
-
1/2 cup brown sugar
-
4 large eggs
-
1 1/2 cups vegetable oil
-
CREAM CHEESE FROSTING:
-
12 tablespoons unsalted butter, softened (1 1/2 sticks)
-
3 cups confectioners sugar
-
16 ounces cream cheese, softened and cubed (2 pkgs)
-
3 cups sweetened shredded coconut - toasted