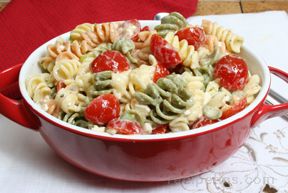 Directions
Cook corkscrew noodles according to package directions.
Drain and rinse with cold water.
In a medium bowl, whisk together the lemon juice, mustard, salt and pepper.
Whisk in oil until thickened.
Whisk in yogurt.
Add grape tomatoes, feta cheese, green onions and tarragon to the noodles.
Add the dressing and toss.
Serve immediately or cover and refrigerate for 2-24 hours.
Salt and pepper to taste.
Prep Time: 15 minutes
Cook Time: 10 minutes
Container: large serving bowl, medium mixing bowl, stock pot
Servings: 10


Ingredients
-
8 ounces corkscrew noodles or macaroni noodles
-
4 ounces tomato and basil feta cheese - chunked
-
8 ounces grape tomatoes - cut in half
-
2 green onions - chopped
-
1 tablespoon fresh tarragon - chopped or 1/2 teaspoon of dried
-
lemon juice
-
mustard
-
oil
-
yogurt
-
DRESSING:
-
1/4 cup lemon juice
-
1 tablespoon Dijon mustard
-
1 teaspoon kosher salt
-
1/3 cup olive oil
-
4 ounces plain yogurt
-
pepper, to taste