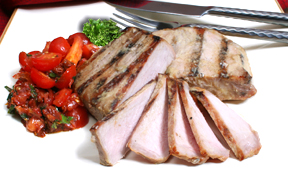 Directions
SALSA:
Combine tomatoes, sun-dried tomatoes, basil and cayenne in a small bowl. Set aside.
PORK CHOPS:
Heat grill to medium.
In another small bowl, combine mustard, honey and garlic.
Place chops on grill.
Grill 4-5 minutes and turn.
Brush with mustard mixture.
Grill another 4 minutes, turn and brush the grilled side with the rest of the mixture.
Remove and allow to rest for 5 minutes.
Garnish with basil and serve with two tomato salsa.
Prep Time: 10 minutes
Cook Time: 10 minutes
Container: two small mixing bowls, grill
Servings: 4


Ingredients
-
TWO TOMATO SALSA:
-
1 small container grape tomatoes - cut into 1/4
-
1/2 jar sundried tomatoes, packed in oil - drained and chopped
-
1/4 cup fresh basil - chopped and extra for garnish
-
1/4 teaspoon cayenne pepper
-
SAUCE:
-
2 tablespoons Dijon mustard
-
2 tablespoons honey
-
1 teaspoon garlic - minced
-
4 boneless pork chop - thick cut