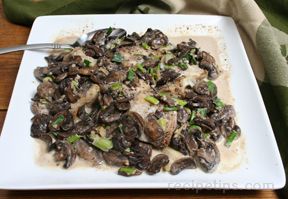 Directions
Heat oven to 450°.
In a oven proof skillet, heat oil and butter over medium heat.
Add mushrooms and cook until just starting to brown, 5-10 minutes.
Add in just the green onions bulbs, garlic, salt and pepper.
Stir and cook until the green onion bulbs start to soften, approximately 5 minutes.
Sprinkle fish with salt and pepper.
Place on top of the mushroom mixture and place the skillet in the oven.
Roast until the fish is done, approximately 10 minutes for 3/4 inch fillets.
Remove the skillet from the oven and remove the fish from the oven and set aside.
Place skillet back on the stove top on medium heat.
Add scallion tops and cream to the mushroom mixture.
Place the fish on a serving platter, top with the mushroom sauce and serve with a crusty bread.
Prep Time: 10 minutes
Cook Time: 20 minutes
Container: medium oven proof skillet
Servings: 4


Ingredients
-
1 tablespoon cooking oil
-
1 tablespoon unsalted butter
-
1 pound mushrooms - sliced
-
4 green onions, bulb and green tops cut separately into 1/2 inch pieces
-
3 cloves garlic - chopped
-
salt and pepper to taste
-
4 medium monk fish fillets, can substitue halibut or salmon
-
1/4 cup heavy cream