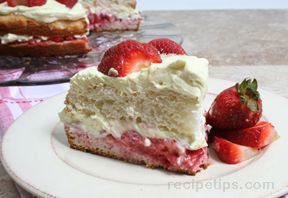 Directions
Grease cake pan.
Preheat oven to 425°.
Beat 1/2 cup of milk, plain yogurt and 3 tablespoons of sugar in a medium bowl with a wire whisk until well blended.
Stir in the baking mix and lemon zest just until combined.
Spread evenly in the cake pan.
Bake for 12-15 minutes or until the top is golden brown.
Remove the cake from the pan and completely cool on a wire rack.
Meanwhile, add the dry pudding mix to 3/4 cup of milk in a mixing bowl.
Beat with a wire whisk until thickened, approximately 1-2 minutes.
Fold in the non dairy whipped topping.
Set aside in the refrigerator.
Slice two pints of strawberries in half. Place half in a mixing bowl and reserve the other half for decorating.
Mix in 1/3 cup of sugar with the strawberries and mash them with a potato masher until mostly mashed.
Cut cake in half horizontally to make two layers.
Place bottom layer on a cake plate and top with the mashed strawberries.
Then top the strawberries with half of the whipped topping and pudding mixture.
Cover with the top cake layer and spread with the remaining whipped topping and pudding mixture.
Arrange halved strawberries on the top of the cake as desired.
Sprinkle with sugar and add mint leaves for garnish if desired. Serve immediately.
Store any leftovers in the refrigerator.
Prep Time: 15 minutes
Cook Time: 15 minutes
Container: 9 inch round cake pan, two medium mixing bowls
Servings: 8


Ingredients
-
1 1/4 cups milk - divided
-
1/4 cup plain yogurt
-
3 tablespoons sugar
-
1/2 lemon - zested
-
2 1/4 cups bisquit baking mix
-
1 package (4 serving) lemon flavored instant pudding and pie filling
-
8 ounces non dairy whipped topping
-
2 pints fresh strawberries
-
1/3 cup sugar
-
mint for garnish if desired