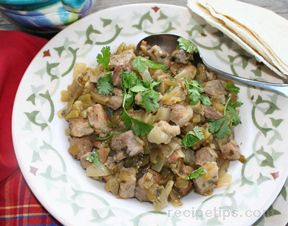 Directions
Heat 1 tablespoon oil in a large heavy skillet. Salt and pepper the pork cubes and brown, stirring once or twice to turn, for about 5 minutes.
Set browned cubes aside, add 1 tablespoon oil to the browning pan, add onions to the pan and cook, stirring occasionally, for about 3 - 4 minutes. Add the garlic and stir in.
Add wine or water and stir to get any browned bits off the bottom of the pan.
Add oregano, chilies and tomatillos. Mix in and adjust heat to maintain a simmer. Cover and cook until pork is tender, about 30 minutes. Taste for seasoning.
Sprinkle cilantro over, if using. Serve with salsa, warm tortillas and/or beans or rice.
Prep Time: 25 minutes
Cook Time: 35 minutes
Container: Heavy large skillet
Servings: 4


Ingredients
-
2 tablespoons olive or other oil, divided
-
1/2 pound pork, in small (1/2
-
1 teaspoon salt
-
1/2 teaspoon freshly ground pepper
-
1 onion, chopped
-
4 cloves garlic, chopped
-
2 tablespoons fresh oregano, chopped or 2 teaspoons dried, crumbled
-
1 teaspoon ground cumon
-
1 can green chilies, about 8 oz.
-
8 ounces fresh tomatillos, chopped, or use canned
-
1 cup white wine or water
-
2 tablespoons cilantro, chopped, for topping (optional)