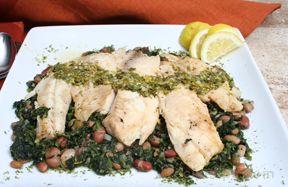 Directions
Place olive oil in a skillet, heat to medium, add diced onion and saute for three minutes.
Add spinach, stirring to combine.
Saute three minutes.
Add beans, mix to warm through.
Salt and pepper to taste and set aside.
Brush both sides of the fish with olive oil.
Place on a medium heat grill on a grill rack.
Grill for approximately 3 minutes each side.
This fish cooks very quick because it is not very thick.
Remove from grill and set aside.
Whisk together lemon juice, parsley, thyme, garlic and lemon zest.
Slowly whisk in the oil until it is emulsified.
Salt and pepper to taste.
To serve, platter up the spinach mixture on a large platter.
Top with grilled fish and then pour the vinaigrette over the fish. You may not need to use all of the vinaigrette. Serve with a warm crusty bread.
Prep Time: 15 minutes
Cook Time: 20 minutes
Container: grill, medium skillet
Servings: 4


Ingredients
-
5 tablespoons olive oil plus more to brush fish
-
1 package frozen spinach, thawed and squeezed dry
-
1/2 onion - diced
-
1 can white beans
-
salt and pepper to taste
-
4 filets tilapia
-
LEMON VINAIGRETTE:
-
1/4 cup lemon juice
-
1/4 cup fresh parsley - chopped
-
2 cloves garlic - chopped
-
2 teaspoons grated lemon zest
-
salt and pepper to taste
-
1 tablespoon fresh lemon thyme - chopped fine
-
1/3 cup olive oil