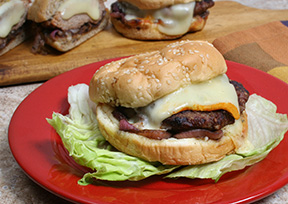 Directions
ONION RELISH:
Place sliced onions in bowl and sprinkle generously with olive oil.
Place the onions in a grill rack on the grill, close the lid, and grill over medium heat for 5 minutes.
Open the grill and turn the onion slices to brown the other side slightly.
Remove from grill.
In a medium bowl, whisk together the vinegar, mustard, salt, pepper, and thyme.
Whisk in the olive oil until emulsified.
Add the grilled onions and stir to combine.
Allow to sit at room temperature until ready to use.
TURKEY BURGERS
Combine the ground turkey, Worcestershire sauce, mustard, salt, and pepper.
Form into 4 patties.
Brush each side with olive oil.
Heat grill to medium-high.
Place the patties on the grill and cook for 3-4 minutes on each side (for medium-well done).
Remove the patties to a platter.
Brush the outside of each roll with olive oil and place on the grill over medium-low heat and grill for approximately 3 minutes.
Turn the buns over and place two slices of cheese on each bun top and approximately 1/3 cup of onion relish on the bun bottoms.
When cheese is melted, assemble the burgers and serve hot off of the grill.
Prep Time: 20 minutes
Cook Time: 15 minutes
Container: two medium mixing bowls, grill
Servings: 4


Ingredients
-
ONION RELISH:
-
2 red onions - peeled and thinly sliced
-
olive oil for drizzling
-
1/4 cup balsamic vinegar
-
1 tablespoon Dijon mustard
-
salt and pepper to taste
-
1 tablespoon fresh thyme
-
TURKEY BURGERS:
-
1 1/2 pounds ground turkey
-
1 tablespoon Worcestershire sauce
-
1 tablespoon chipotle mustard
-
salt and pepper to taste
-
olive oil for brushing
-
4 rolls or buns
-
8 slices munster cheese