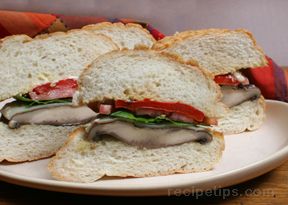 Directions
Heat grill to medium.
In a small bowl, mix together the mayo, parmesan cheese and mustard.
Mix in 1 teaspoon garlic and set aside.
In another small bowl, whisk the olive oil, vinegar and 2 teaspoons of garlic.
Brush oil mixture over both sides of the mushrooms.
Sprinkle with salt and pepper.
Place the gill side of the mushrooms down on the grill for 3 to 5 minutes.
Turn and grill another 3-5 minutes more.
Reduce the grill heat to low.
Turn mushrooms so the caps are up and top each with cheese.
Place cut rolls, cut side down, on the grill.
Close the grill and cook until the rolls are crisp and the cheese has melted on the mushrooms, approximately 5 minutes.
Place the bottoms of the rolls on a platter, top each with a mushroom.
Place a few leaves of basil on top of the mushrooms, then a slice of tomato, then a slice of red pepper.
Spread mayo mixture on the top half of the roll and cap the sandwiches.
Serve warm.
Prep Time: 15 minutes
Cook Time: 10 minutes
Container: grill, two small mixing bowls
Servings: 4


Ingredients
-
1/4 cup mayonnaise
-
1/4 cup fresh grated parmesan cheese
-
3 teaspoons garlic - minced
-
2 teaspoons Dijon mustard
-
4 sandwich rolls - sliced in half
-
1/4 cup olive oil
-
2 tablespoons balsamic vinegar
-
4 large portobello mushrooms - stems and gills removed and caps wiped clean.
-
salt and pepper to taste
-
4 slices provolone or fresh mozzarella cheese - sliced
-
1/2 cup basil leaves
-
1 tomato - sliced
-
1 red pepper - grilled, seeded, skinned and cut into quarters