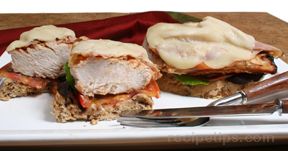 Directions
Preheat the grill to medium heat.
Place the chicken breasts on the grill, baste with your favorite barbecue sauce, and season with salt and pepper.
Cook for 15 minutes, turning once, or until the meat is no longer pink in the middle and the juices run clear.
During the last 5 minutes of cooking, top each breast with 1 slice of ham and then 1 slice of provolone cheese.
Close the lid and cook just long enough for the cheese to melt, approximately 3-5 minutes.
Slice a whole-grain bread loaf into 1-inch thick slices.
Drizzle the bread slices with olive oil and grill until toasted.
Top the bread with lettuce leaves and 1 slice of tomato.
Place one cooked chicken breast on each.
Serve warm.
You can serve the sandwich with extra barbecue sauce on the side if you wish.
Prep Time: 10 minutes
Cook Time: 15 minutes
Container: grill
Servings: 6


Ingredients
-
6 boneless, skinless chicken breast halves
-
barbecue sauce
-
salt and pepper, to taste
-
6 slices honey ham
-
6 slices provolone cheese
-
1 whole grain bread loaf
-
olive oil for sprinkling on the bread
-
lettuce leaves
-
6 slices tomato