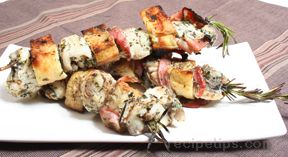 Directions
Place monkfish chunks in a large bowl.
Add bread cubes and mix.
Strip rosemary stems except for the top 1/2 inch of the stem.
Chop rosemary leaves very fine.
Add in the garlic and keep chopping until well combined and minced fine.
Place in a small bowl, add 6 tablespoons of olive oil. Mix to combine.
Pour mixture over the monkfish and bread. Toss to coat all pieces.
If using rosemary stalks as skewers, cut the bottom tip at an angle so you have a point that will easily slide through the fish. Otherwise use regular wooden skewers to make the kebabs.
Place one piece of monkfish, then a piece of bread, repeat two more times so you have 3 pieces of each on a skewer.
Season with salt and pepper.
Loosely wrap bacon strips around each kebab, tucking down inbetween the fish and the bread.
Place kebabs on the grill and cook for approximately 5 minutes on each side or until the bread is toasted and the fish is white and cooked through.
These can also be made in the oven. Preheat the oven to 400°.
Place the kebabs on a baking sheet and bake for for 15-20 minutes or until the bread is golden brown.
When kebabs are finished cooking, either on the grill or in the oven, drizzle them with balsamic vinegar and serve.
Container: grill, large mixing bowl, small mixing bowl, skewers and baking sheet
Servings: 4


Ingredients
-
1 pound trimmed monkfish or any other firm textured white fish - cut into 1 inch cubes
-
1 loaf of ciabatta or baguette bread, cut into large cubes
-
4 rosemary sprigs, leaves stripped
-
1 clove garlic - peeled and minced
-
6 tablespoons olive oil
-
salt and pepper to taste
-
8 slices bacon
-
3 tablespoons balsamic vinegar
-
3 wooden skewers or rosemary sprigs - soaked in water