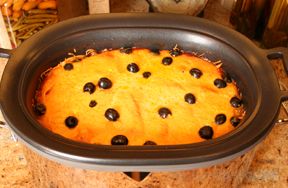 Directions
Brown beef with onion and garlic. Drain and season with salt and pepper.
Spray inside of slow cooker with nonstick cooking spray.
First Layer: Cover bottom of slow cooker with a layer of the tortilla strips. Place about 1/2 of the meat mixture on top of the strips. Add half the enchilada sauce and 1/2 the tomato sauce, top with 1/3 of the cheese.
Second Layer: Layer of tortilla strips, add all the the beans and corn, the rest of the meat mixture, top with 1/3 of the cheese. Add olives in this layer, if desired.
Third Layer: Layer tortilla strips, remaining tomato sauce and enchilada sauce, top with remaining cheese. Garnish with olives, if desired.
Cover slow cooker and cook for 7 hours on low heat.
Note: This recipe can easily be cut in half and baked in a 4 1/2 quart slow cooker for approximately 5-6 hours.
Prep Time: 20 minutes
Cook Time: 6 or more hours
Container: 7 quart slow cooker
Servings: 20
Serving Size: 1 piece


Ingredients
-
3 pounds ground beef
-
2 large onions, chopped
-
2 cloves garlic, minced
-
2 teaspoons salt
-
1/2 teaspoon pepper
-
12 corn tortillas, cut into 1
-
20 ounces (2 cans) enchilada sauce
-
16 ounces tomato sauce
-
1 1/2 pounds cheddar cheese, grated
-
64 ounces (4-16 oz. cans)chili beans
-
32 ounces (2-16 oz. cans)corn, drained
-
6 ounces pitted olives (optional)