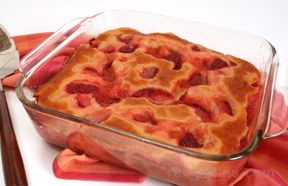 Directions
Preheat oven to 400° F.
In a sauce pan add 1/3 cup sugar, cornstarch, water, and rhubarb. Bring just to a boil. Stir, reduce heat to simmer and cook an additional 3 minutes, stirring constantly. Remove from heat, add strawberries and stir to combine all ingredients.
In a small bowl combine flour, baking powder, salt, and 2/3 cup sugar. In another bowl combine egg, milk and softened butter, stirring until combined. Add flour mixture and blend together.
In prepared baking dish, add rhubarb mixture in bottom of pan and reserve about 1/2 cup to garnish top. Spread batter evenly over fruit mixture and garnish with reserved rhubarb mixture.
Bake 25-30 minutes or until done. Insert toothpick in center to check doneness. Toothpick should come out clean.
Serve warm or cold. Garnish, if desired, with whipped topping or ice cream.
Prep Time: 25 minutes
Cook Time: 25 minutes
Container: 8
Servings: 6
Serving Size: 1 piece


Ingredients
-
2 teaspoons corn starch
-
1 cup sugar, divided
-
2 1/2 cups rhubarb, fresh, chopped
-
1/4 cup water
-
1 cup strawberries, fresh, sliced or chopped
-
1 cup all purpose flour
-
1 1/2 teaspoons baking powder
-
1/2 teaspoon salt
-
1 egg
-
1/2 cup milk
-
1/2 cup butter, salted, softened
-
1 teaspoon vanilla