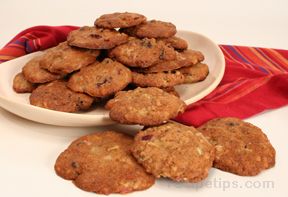 Directions
Preheat oven to 350° F.
In a large mixing bowl add brown sugar and softened butter; cream together.
Add eggs and vanilla; beat until creamed.
In a smaller bowl mix all dry ingredients; stir to combine.
Add the milk and the dry ingredients to the creamed brown sugar and butter mixture; beat just until combined.
Stir in rhubarb, coconut, crasins, and walnuts.
On a prepared cookie sheet drop about 1 heaping tablespoon of batter per cookie.
Place only about 12 cookies per sheet because they will spread while baking.
Bake 12-14 minutes or until light golden brown.
Remove pan from oven, let cookies sit on the baking sheet 1-2 minutes before removing them to a cooling rack.
Prep Time: 20 minutes
Cook Time: 15 minutes
Container: large mixing bowl, cookie sheet - greased
Servings: 24


Ingredients
-
1 1/3 cups brown sugar - packed
-
1/2 cup butter, unsalted - softened
-
1 egg
-
1 teaspoon vanilla
-
2 cups all-purpose flour
-
1/2 teaspoon salt
-
1 teaspoon cinnamon
-
1/2 teaspoon clove
-
1/2 teaspoon nutmeg
-
1 teaspoon baking soda
-
3 teaspoons milk
-
1 cup fresh rhubarb - chopped fine
-
1/2 cup coconut
-
1 cup crasins or raisins
-
1 cup walnuts - chopped