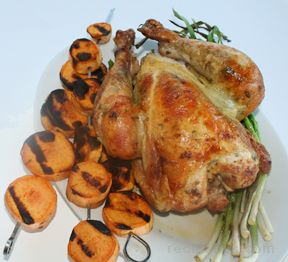 Directions
Mix butter, herbs and garlic into a paste and set aside.
Rinse the chicken well, inside and out. Work your hand carefully under the skin wherever you can (breast, legs, thighs) taking care not to break the skin. Push bits of the herb paste under the skin then massage the surface to spread the paste around. Salt and pepper the cavity. Brush or rub the exterior with oil or melted butter. At this point, you can grill it, or you can refrigerate the bird for several hours.
Set the grill up for indirect cooking and preheat. While the grill heats, truss the chicken: tie the drumsticks (leg ends) together with a piece of string. Run a second piece of string under the back, catching both wings, and tie in front. Trim off any string ends.
Place the chicken on the spit according to the manufacurer's directions and grill over medium indirect heat for 75 - 90 minutes or until done. To test for doneness, use a thermometer ( 170F), or wiggle the legs - they should feel loose in their sockets, or poke into the meat - the juice that runs out should be clear, not pink.
Remove from the spit and let sit for a few minutes. Cut and remove the strings and serve.
Container: grill with rotisserie attachment
Servings: 4


Ingredients
-
1 whole chicken, 3 1/2 - 4 lbs
-
3 tablespoons butter, plus extra for rubbing on, or use oil
-
2 tablespoons chopped herbs: tarragon, rosemary, oregano, or a mixture
-
2 cloves pressed or mashed garlic
-
olive oil, if needed
-
salt and pepper