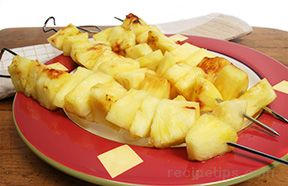 Directions
In medium bowl, mix the sugar, vanilla, and tequila; set aside.
Cut the pineapple into large chunks; then add the chunks to the tequila marinade. Stir, cover with plastic wrap, and set in the refrigerator for 30 minutes, stirring occasionally.
Heat the grill to medium heat.
Remove the pineapple from the refrigerator and thread the chunks onto skewers.
Place the skewers on the grill and baste with the marinade.
Cook for about 6 minutes on each side, turning only once.
Remove from the grill and serve warm.
Prep Time: 10 minutes
Cook Time: 10 minutes
Container: medium bowl
Servings: 10


Ingredients
-
1 fresh, whole pineapple
-
1/2 cup sugar
-
1/2 cup tequila
-
1 teaspoon vanilla extract